Taste of Machi 舌尖上的町居
坪數60坪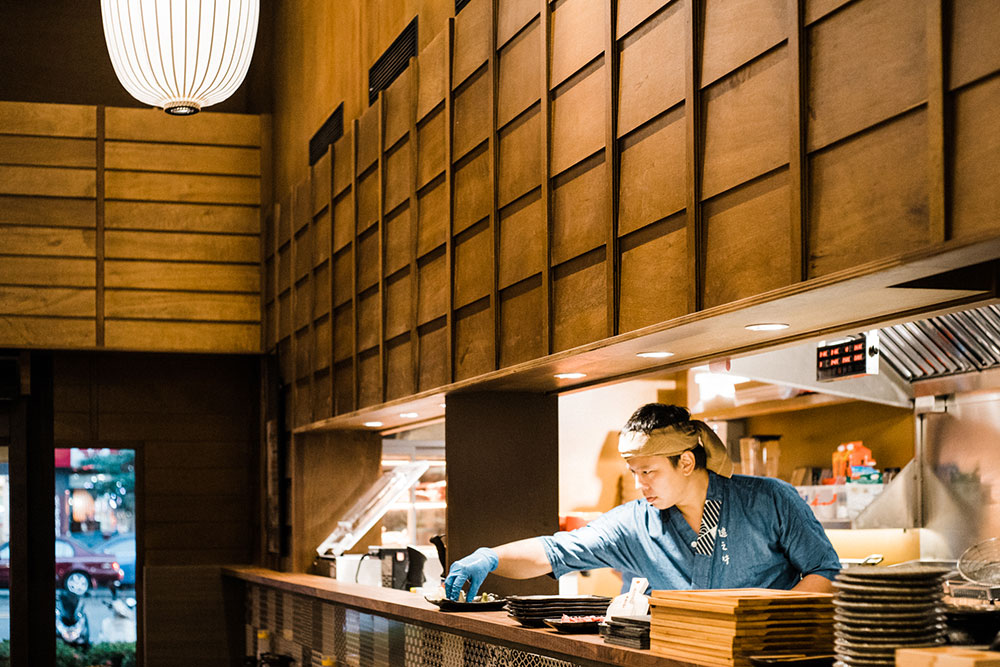 為再詮釋日式古樸風格,現代化的日式炸牛排餐廳,以日本町區巷弄間的空間樣貌為標地,適度的復舊與微創、更新,讓餐廳返回小而美的年代:木架構,小方町,座位緊密相鄰,呈現溫熱奔騰的老店氛圍。

The reinterpretation of rustic Japanese style into a modernized fried steak house adopts the alley space of the Japanese "machi." To a certain degree, the revival and recreation send the restaurant to the age of small and beautiful. The timber framework, square street blocks, and the tightly arranged seating present the vividness of a legendary restaurant.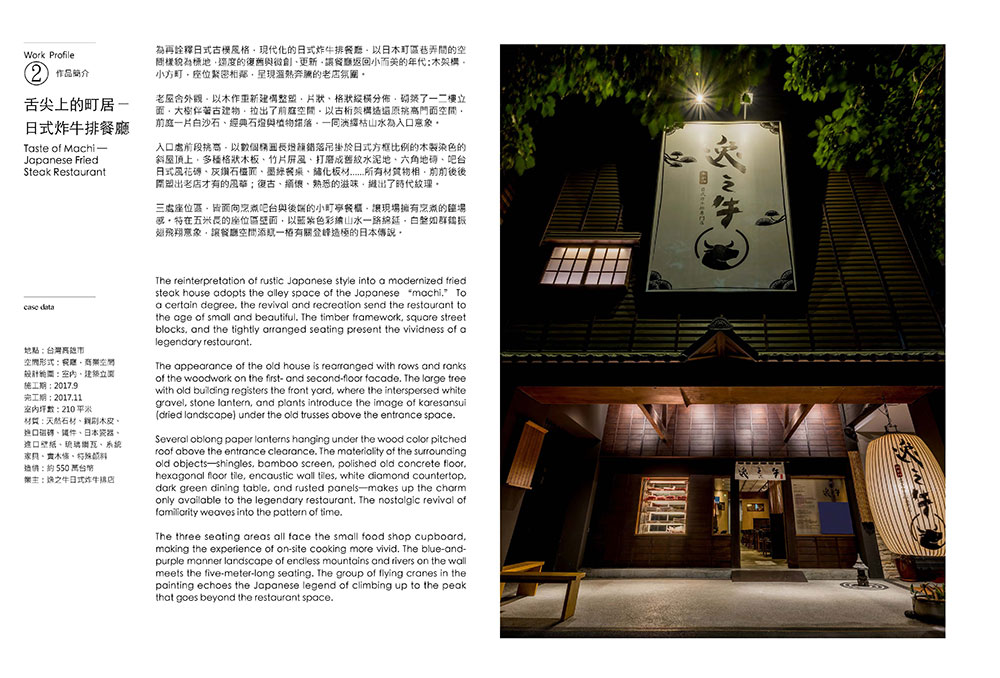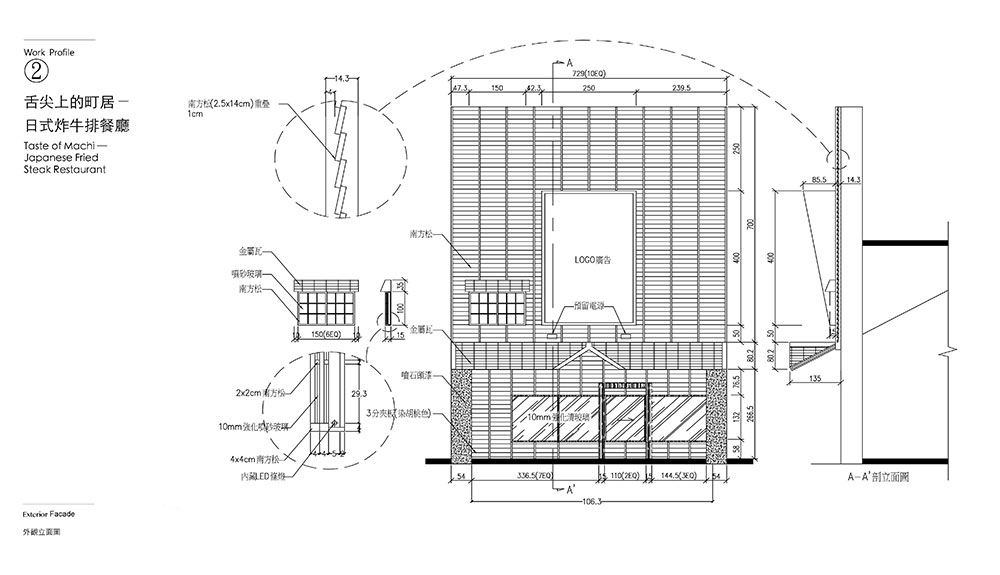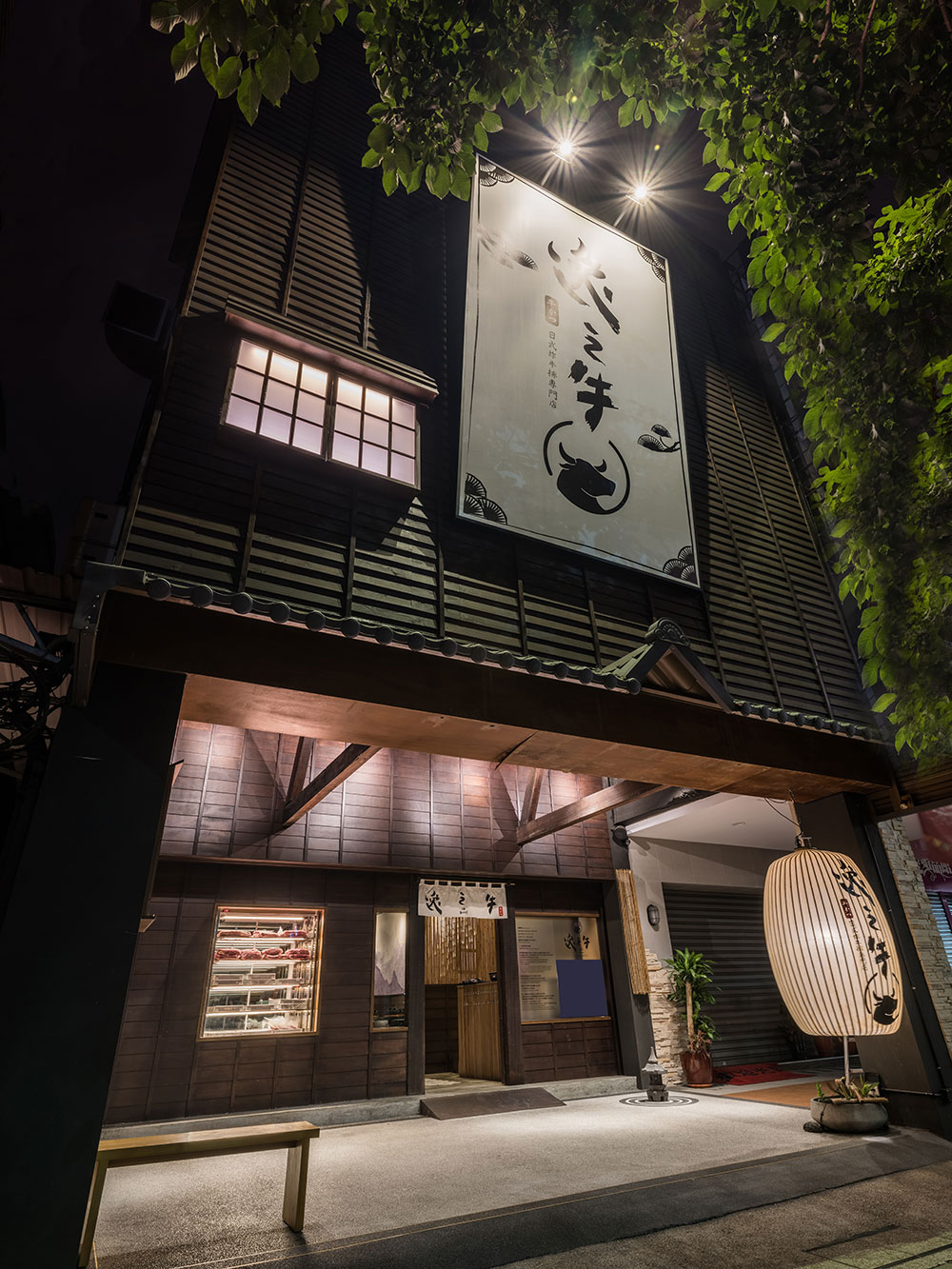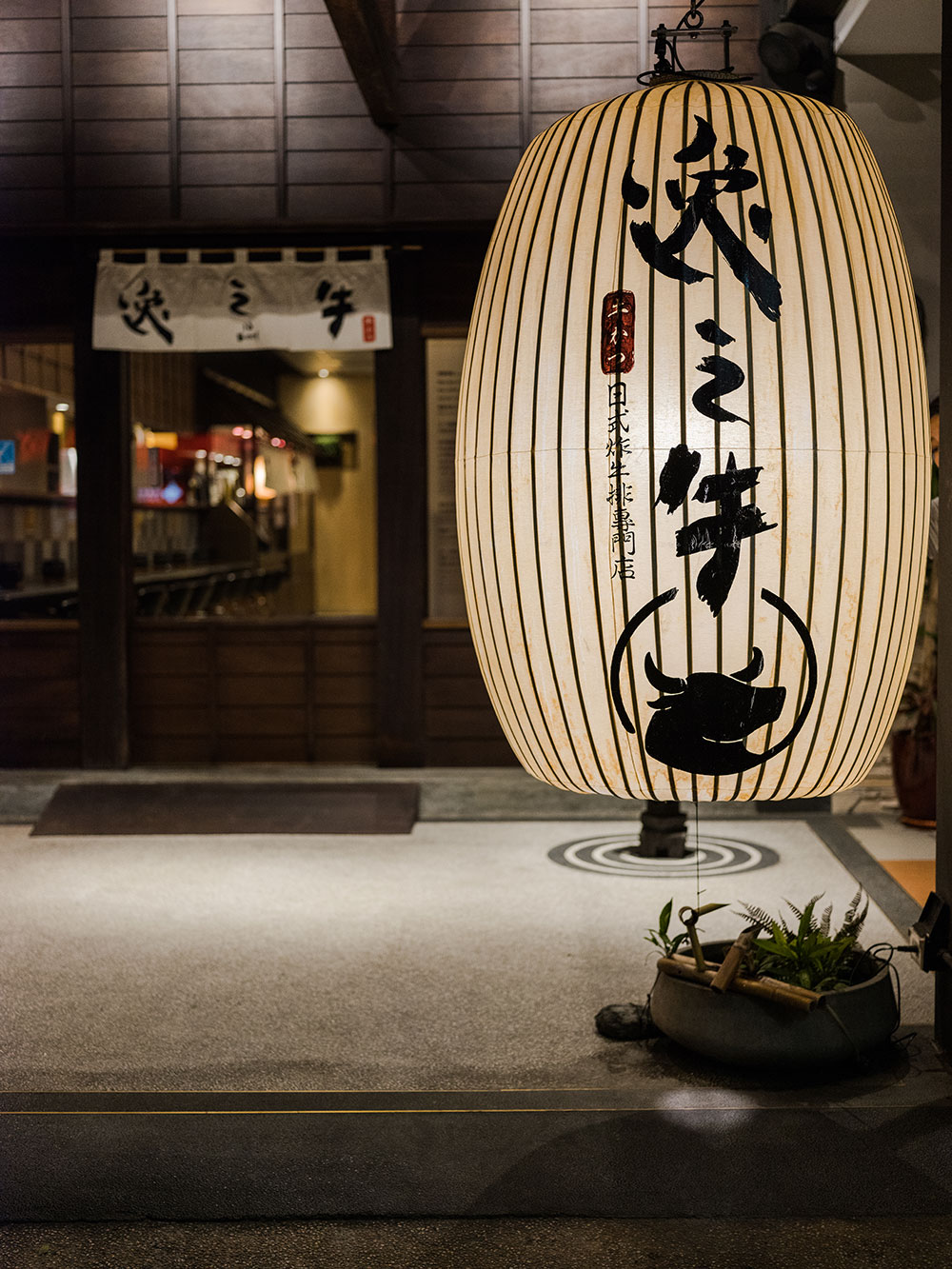 老屋舍外觀,以木作重新建構整塑,片狀、格狀縱橫分佈,砌築了一二樓立面,大樹伴著古建物,拉出了前庭空間,以古桁架構造還原挑高門面空間,前庭一片白沙石、經典石燈與植物錯落,一同演繹枯山水為入口意象。

The appearance of the old house is rearranged with rows and ranks of the woodwork on the first- and second-floor facade. The large tree with old building registers the front yard, where the interspersed white gravel, stone lantern, and plants introduce the image of karesansui (dried landscape) under the old trusses above the entrance space.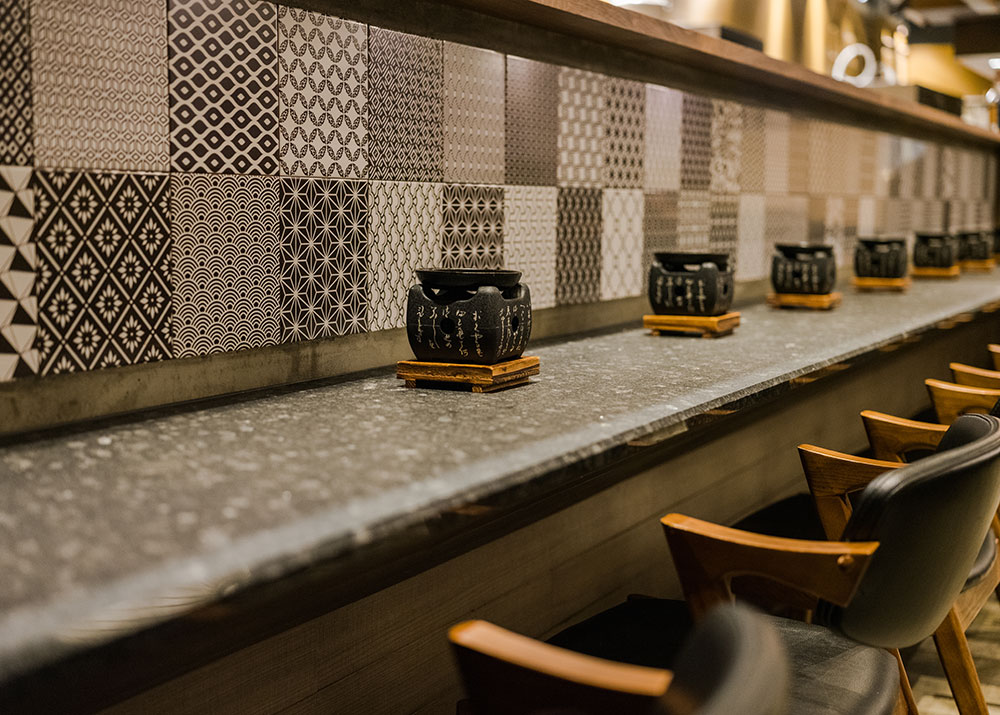 入口處前段挑高,以數個橢圓長燈籠錯落吊掛於日式方框比例的木製染色的斜屋頂上,多種格狀木板、竹片屏風、打磨成舊紋水泥地、六角地磚、吧台日式風花磚、灰鑽石檯面、墨綠餐桌、鏽化板材……所有材質物相,前前後後圍塑出老店才有的風華;復古、緬懷、熟悉的滋味,織出了時代紋理。

Several oblong paper lanterns hanging under the wood color pitched roof above the entrance clearance. The materiality of the surrounding old objects—shingles, bamboo screen, polished old concrete floor, hexagonal floor tile, encaustic wall tiles, white diamond countertop, dark green dining table, and rusted panels—makes up the charm only available to the legendary restaurant. The nostalgic revival of familiarity weaves into the pattern of time.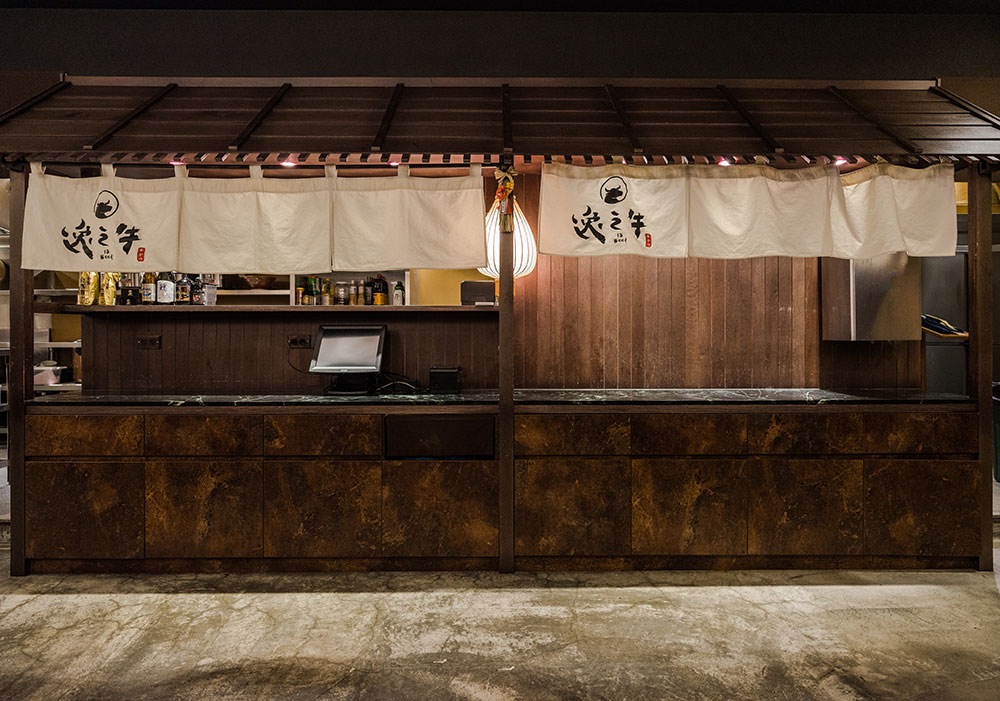 三處座位區,皆面向烹煮吧台與後端的小町亭餐櫃,讓現場擁有烹煮的臨場感。特在五米長的座位區壁面,以藍紫色彩繪山水一路綿延,白盤如群鶴振翅飛翔意象,讓餐廳空間添賦一樁有關登峰造極的日本傳說。

The three seating areas all face the small food shop cupboard, making the experience of on-site cooking more vivid. The blue-and-purple manner landscape of endless mountains and rivers on the wall meets the five-meter-long seating. The group of flying cranes in the painting echoes the Japanese legend of climbing up to the peak that goes beyond the restaurant space.